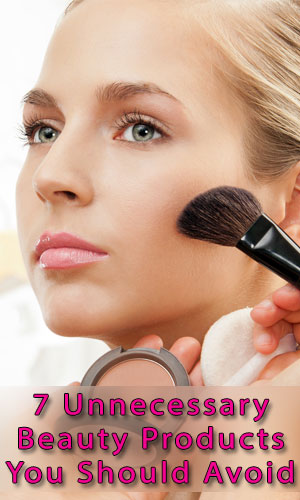 Advertisements, commercials and leaflets can be powerful and they usually make us buy products that we don't really need. It is not only that because of these advertisements we end up getting things that are unnecessary, but we also end up wasting a lot of our hard earned money. If you take a good look at the products on your dressing table and your cosmetic bag, you will see how much money you have wasted on products that you don't really need and therefore don't use. Here's a look at 7 of these unnecessary beauty products that you must avoid. The money that you save here can of course be invested in better things.
1. Makeup primer
Primers are used on the face after applying the moisturizer and before applying the foundation. But, these days there are tinted moisturizers available which you can use to balance makeup on your face. With the right moisturizer, you can get an even skin tone and prepare your face for the foundation.
2. Split-end remedies
There are shampoos and serums which claim to fix split ends. But this is not true. There are no products which can actually cure split ends. These products can only smooth the ends down. Split ends can be taken care of by getting the hair trimmed once in a while. Moreover, it is essential to avoid using hair dryers and stylers frequently.
3. Anti-cellulite creams
Cellulite is a common problem among women, but the solution to getting rid of cellulite or reducing it relies on a healthy diet and regular exercise. You can find creams that claim to reduce cellulite, but they don't work for the long term.
4. Toner
Toners are used to clean the skin. Basically, anyone who is familiar with using a toner knows that first there is a special face wash, obviously by the same brand that must be used. Then the toner is used to remove any residues. Today, the cleansers and face washes which are out there do not leave residues, so there is no need for a toner.
5. Lip exfoliators
Dry and flaky skin on the lips can be caused by a number of factors. There are a number of people who use lip exfoliators to get rid of flaky skin from the lips. But why waste money on this product when you can get smooth and beautiful lip by simply using an old toothbrush or a clean mascara wand.
6. Foot masks
It can be tempting to spend money on foot masks to relax the feet. But what these beauty products do can actually be achieved by soaking the feet in lukewarm water. After soaking the feet for 10-20 minutes, remove and moisturize with a normal body moisturizer.
7. Vitamin E Capsules
Vitamin E capsules have been used from a long time to get good looking skin. But according to a number of experts, these capsules contain preservatives that can irritate the skin. The antioxidants are also lighter when compared to those we get by eating foods containing antioxidants. So the best thing to do is eat fresh fruits and vegetables everyday to get glowing and beautiful skin.