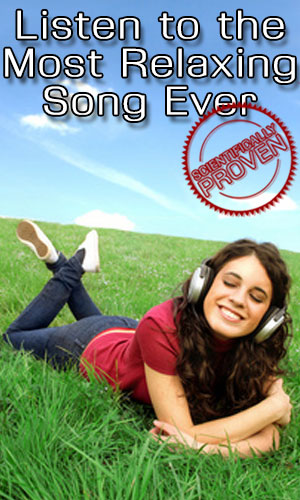 If you fell stressed, frustrated and anxious, if you have high blood pressure and fast hart rate or you can't sleep for some reason there is a song that could help you in 8 minutes.
Sound therapy has been used for thousands of years to help people relax, sleep and improve health and well-being, but according to the British Academy of Sound Therapy, the song 'Weightless' is the most relaxing song ever recorded.
The institution, in collaboration with band Marconi Union carefully arranged harmonies, rhythms and bass lines creating melody that slows the heart rate, reduces blood pressure and lowers levels of cortisol – the stress hormone. The UK scientists claim that "Weightless" is so effective at inducing sleep it should not be listened to while driving. The song also slows breathing and reduces brain activity. The study "found the song was even more relaxing than a massage, walk or a cup of tea".
Scientists played the song to 40 women and found it to be more effective at helping them relax than the other tested songs. "Weightless" was 11% more relaxing than any other song and even made many of the women sleepy. It reduced the overall anxiety for 65% after the induced stress environment and brought them to a level of 35% lower anxiety than their usual rates.
Top ten most relaxing tracks according to the study are:
1. Weightless – Marconi Union
2. Electra – Airstream
3. Mellomaniac (Chill Out Mix) – DJ Shah
4. Watermark – Enya
5. Strawberry Swing – Coldplay
6. Please Don't Go – Barcelona
7. Pure Shores – All Saints
8. Someone Like You – Adele
9. Canzonetta Sull'aria – Mozart
10. We Can Fly – Cafe Del Mar